By Jason Shaw, LPC
---
Grief is a real, painful, and personal aspect of life. We have all grieved the loss of someone or something close to our hearts. Loss can take many forms from losing a beloved family pet, a parent or grandparent, a stuffed animal, or that position on the team you worked so hard to get.
With children in foster care, loss is all too common. When working with these youths, we must first learn to navigate our own grief. By confronting the realities of our own grief, we can help children through theirs.
Approaching Grief Head On
In the book, 'A Monster Calls', by Patrick Ness, a young boy is struggling with the consequences of his mom's terminal illness. He is forced to live with his grandmother, his dad lives in another country with another family, and the boy has lost his closest friend. He is also bullied and his teachers appear to be avoiding him altogether.
The Monster helps the boy work through his fears and feelings. He teaches the boy that life, like stories, are wild animals and cannot be predicted. He says, not everyone is who they say they are, there are worse things than being invisible, and the path to true healing can hurt.
The Monster's goal was to help the boy acknowledge the truth about his life, to not hide from that truth, and to face his fears head on.
Grief in Foster Care
There are parallels from the book related to children in foster care. It's much the same way we work through and process our most difficult times.
For those who are foster parents, this becomes real when the child in your home, whom you now love as your own, is removed from your home. Many times, this seems to come out of nowhere.
The worst thing is when out of our hurt, frustration, or fatigue, we lash out at those we love and care. Out of our hurt, we've caused others to hurt.
The Stages of Grief and Trauma
We need to acknowledge grief and trauma. The following stages or tasks are meant to draw us to the truths about the situations we face, help us feel, and then develop a plan to help us navigate our lives.
These tasks are an adaptation of the Tasks of Grief presented by The Children's Bereavement Center of South Texas.
1. Acknowledge and Accept
We accept the loss as real, the trauma as real, or the event of our life as happening or happened.
2. Experience the Feelings
We take time to process what we are feeling regarding what we are experiencing internally and emotionally. During this stage, we learn appropriate and inappropriate ways to grieve our losses, process our trauma, or work through a challenging experience.
3. New Normal
Our lives now are our normal. As we recreate and normalize our lives, we develop a new set of routines, daily activities, and goals. We continue to move forward with our lives and integrate back into society.
If kids are in foster care, their current normal is the consistent care given to them daily. For foster parents who have recently lost a placement because of an unforeseen removal, your new normal is a life apart from that child or children.
4. Memorialize and Reinvest
We do not expect those that have experienced trauma to memorialize their traumatic experiences. What we do is reinvest in the lives of the ones we have here and now.
We do this by taking action. We speak out against abuse and neglect. We provide prevention and information to those who are unfamiliar with abuse and neglect. We reinvest by giving back to our community through donating to causes that promote awareness, prevention, and intervention.
For foster parents who had a child in their home and then the child left, you reinvest in the lives of other foster parents. You can offer support and encouragement, be a respite provider, or find opportunities to volunteer.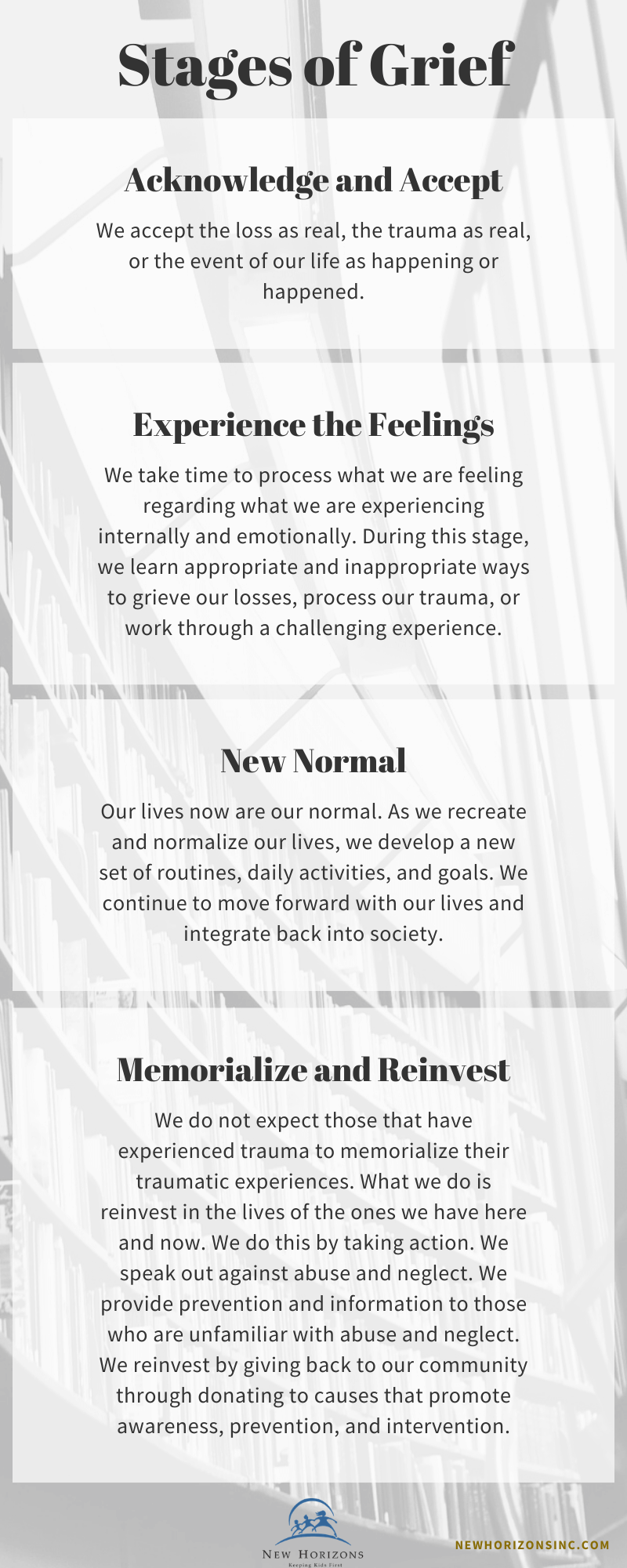 Don't Give Up (Even If You Have to Go Through the Process Multiple Times)
These stages are not static. You might find one day you are doing just fine and then suddenly you are at the beginning stage and cannot believe what has happened. It is normal to work through the process again, to feel those feelings, and find your place back at your new normal.
We are all different individuals and the way we process grief will be unique to us.
Tips for You While You are Grieving
Allow others the opportunity to listen to you
Let them know that what you need from them is just a listening ear and a shoulder to cry on.
Share specific ways you can be helped
Most people don't know what you need or how they can help. Having a few simple tasks for others to do while you grieve can give opportunities for others to serve you.
For example: Would you mind sweeping the kitchen or taking out the trash? Would you mind feeding the dog? These are simple tasks most anyone can do and require little explanation.
How to Help Someone You Know Who is Grieving
Be A Listening Ear
Let the one who is grieving know that you are there for them. Don't feel like you must give an answer. Your presence and support is a great place to start.
Ask Specific Questions about Helping
By asking for something specific, we take the pressure off the one grieving to have to come up with ideas on what they need. For example: Can I take out your trash or take the dog for a walk? I noticed that you are out of ________, how about I pick up some of those items for you?
We can offer a voice when someone who is grieving doesn't seem to have a voice.
We All Grieve Differently
Finally, be mindful of how you personally grieve. Understanding that everyone grieves differently will keep you from setting unrealistic expectations on those who are in the grieving process.
For foster parents, understand that a child might not be aware they are grieving. They will need you to be mindful of the behaviors they display and how to appropriately address those behaviors.
If you are a foster family who is actively grieving the loss of a placement, reach out to other foster families who have experienced the same loss. Your agency should be able to give you direction.
Take Time to Grieve
There is not a fast or slow way through the grieving process. Be open with others and tell them what you need and how they could meet that need.
To find healing in grief and pain, we must be honest with ourselves, our true feelings, and the reality we call our life. When we do this, we can move forward and see hope and a brighter future ahead of us. Though it feels hopeless right now, the sun will shine tomorrow.
Want more tips on helping your kids and family? Try these:
Creating Time for Your Kids: Simple Ways to Connect
Working through Anger: A Healthy Part of Life
Parenting Tips to Help with Homework Time
Understand Your Foster Child's Trauma: 3 Books to Help You Meet Your Child's Needs